Deluxe Student Studio Apartments
Live in your own Deluxe Student Studio Apartment for just £149 per week!
Book a room today
Find Leicester student accommodation in the heart of Leicester, close to the train station and both De Montfort University (DMU) and the University of Leicester. We offer various studio apartments, ideal for student living.
Deluxe Student Studio Apartments
£149 Per Week
The Deluxe Student Studio Apartments at St George's Tower are the definition of luxury. They are the largest studios in the building, with almost 24m2 to play with. There is lots of open space, large windows that provide natural light and incredible views; it's the kind of space that you want to spend all of your time in, the complete opposite of your average Leicester student accommodation. Embrace and enjoy an airy, uncluttered space. 
Expansive windows offer a unique panoramic view of the city below. Be the first to see gorgeous sunrises and stunning sunsets as you soak in everything that Leicester has to offer, overlooking the hustle and bustle of one of the UK's most diverse, history-drenched cities. Some rooms even offer dual aspect windows, enhancing your view of the city below. With plush curtains that effectively block out the light, you get to choose what you get to see and when you get to see it. It's a flexible studio that can ultimately be whatever you need it to be. 
Virtual Tour
Enquire Now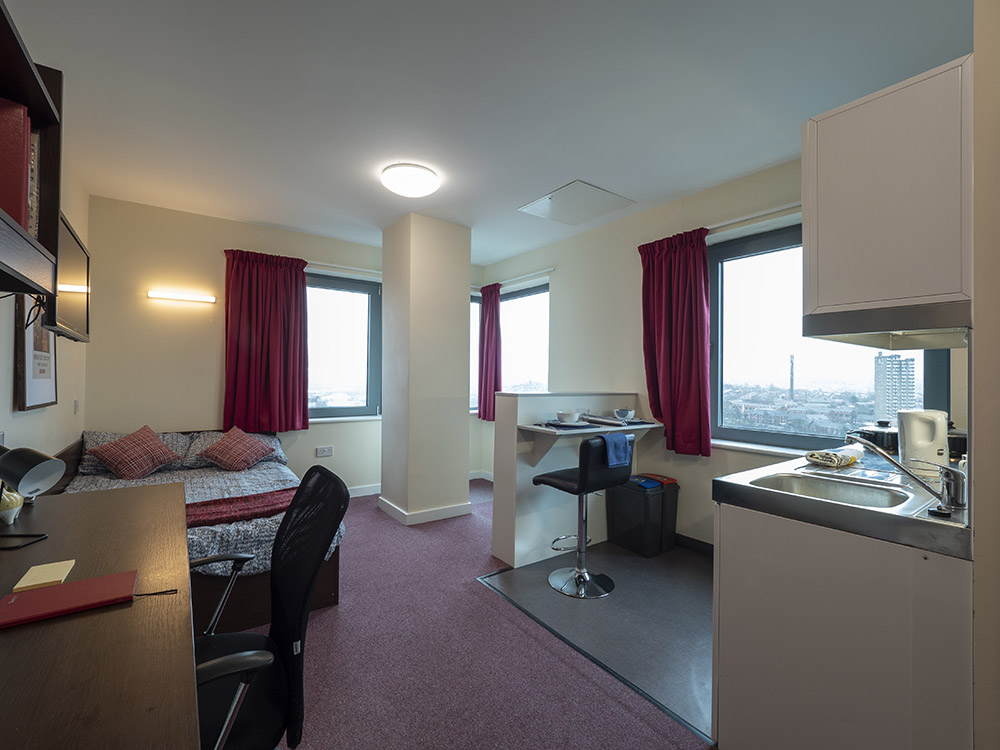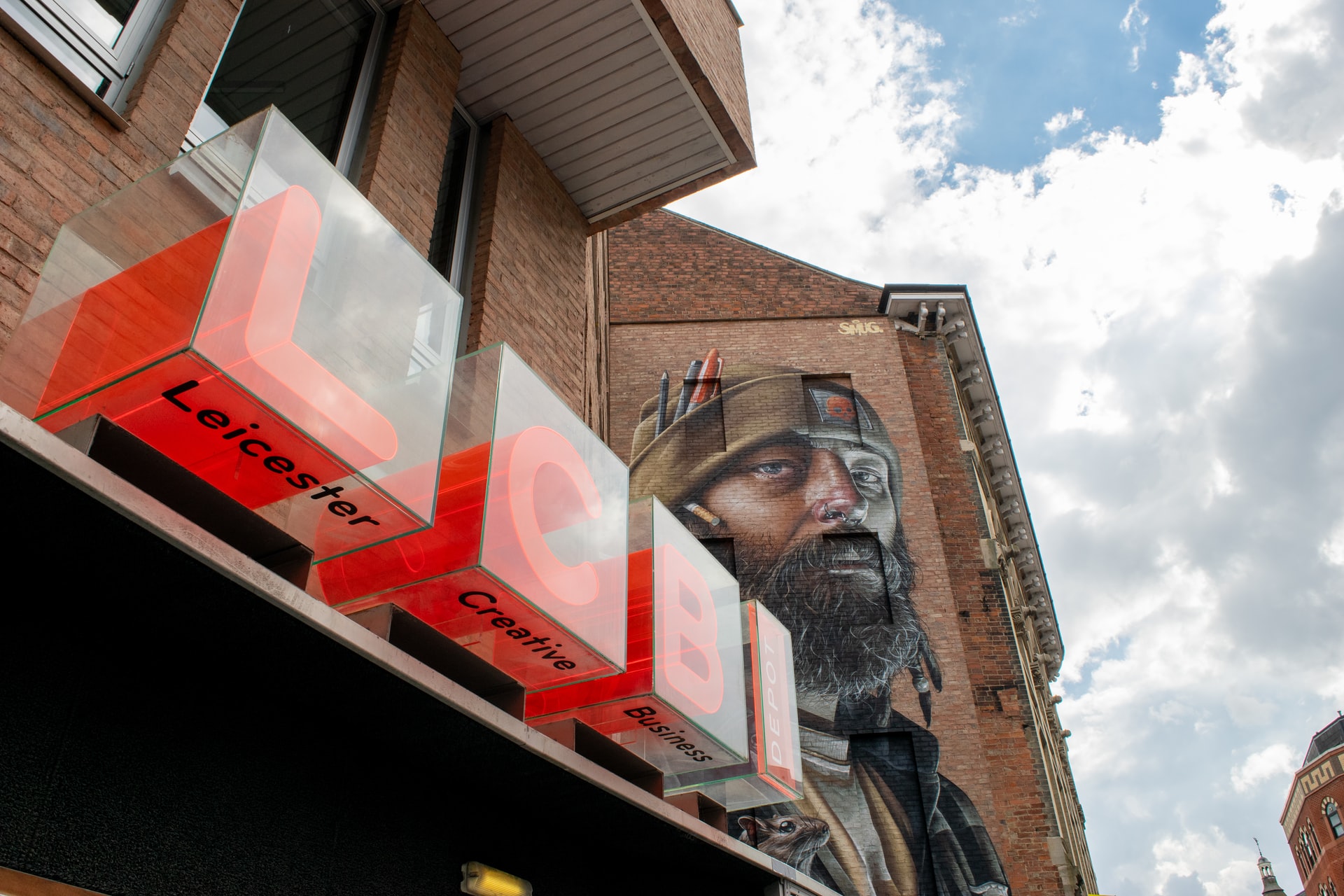 Why Choose Our Leicester Student Accommodation?
Each Deluxe Student Studio Apartment contains a kitchen, dining, bedroom, bathroom and study space. This means that within your four walls, there is everything that you could possibly want or need. Delight in the fact that you don't need to share a bathroom with strangers, and get cosy on those cold winter nights, without ever needing to leave the comfort of your new home. Each room is equipped with all of your basic amenities – as well as some not so basic amenities, which puts the Deluxe in these Deluxe Student Studios. 
Amenities
A kitchen, complete with a cooker, fridge and microwave.

A stylish breakfast bar, featuring matching counter stools.

An ensuite bathroom, containing a toilet, sink and power shower.

A study area, fitted with a generously sized desk, shelf space, a fabric pin board and a padded chair. 

A bedroom area, home to a three quarter sized bed.

Ample storage space throughout, with many cupboards and drawers. 

Wall-mounted TV
Our university apartments have everything that you could want from city centre accommodation and are a definitive step above anything that a university could provide. Live your best student life by investing in a room that you enjoy coming back to. 
Virtual Tour
Enquire Now
Stay Entertained in Our Deluxe Student Studio Apartments
Our Leicester student accommodation is accompanied by key features that you don't want to miss out on, such as a wall-mounted TV. Whether you enjoy live TV or streaming platforms, you can indulge in the latest episode of your favourite show without missing a thing. 
To add to this convenience, we offer on-site, app linked,  laundry facilities. This means that you don't need to travel to and from an independent service provider, because it's just a short trip across the hall or down a flight of stairs – saving you time and money in the long run! By using our app, you can see when machines are free, which means you don't have to spend your time waiting around.
Our Deluxe Student Studio Apartments offer a kind of luxury that few students get to experience, but don't just take our word for it. Try out our virtual tour, and imagine yourself making the journey from the front door, to the kitchen, to the bedroom in your own deluxe apartment.. 
Like what you see? Then enquire about our Leicester student accommodation today!

With a limited number of rooms available and a high level of demand, you don't want to miss out. A great room can transform your university experience, and living in St George's Tower could be the difference between liking and loving the next year.
Virtual Tour
Enquire Now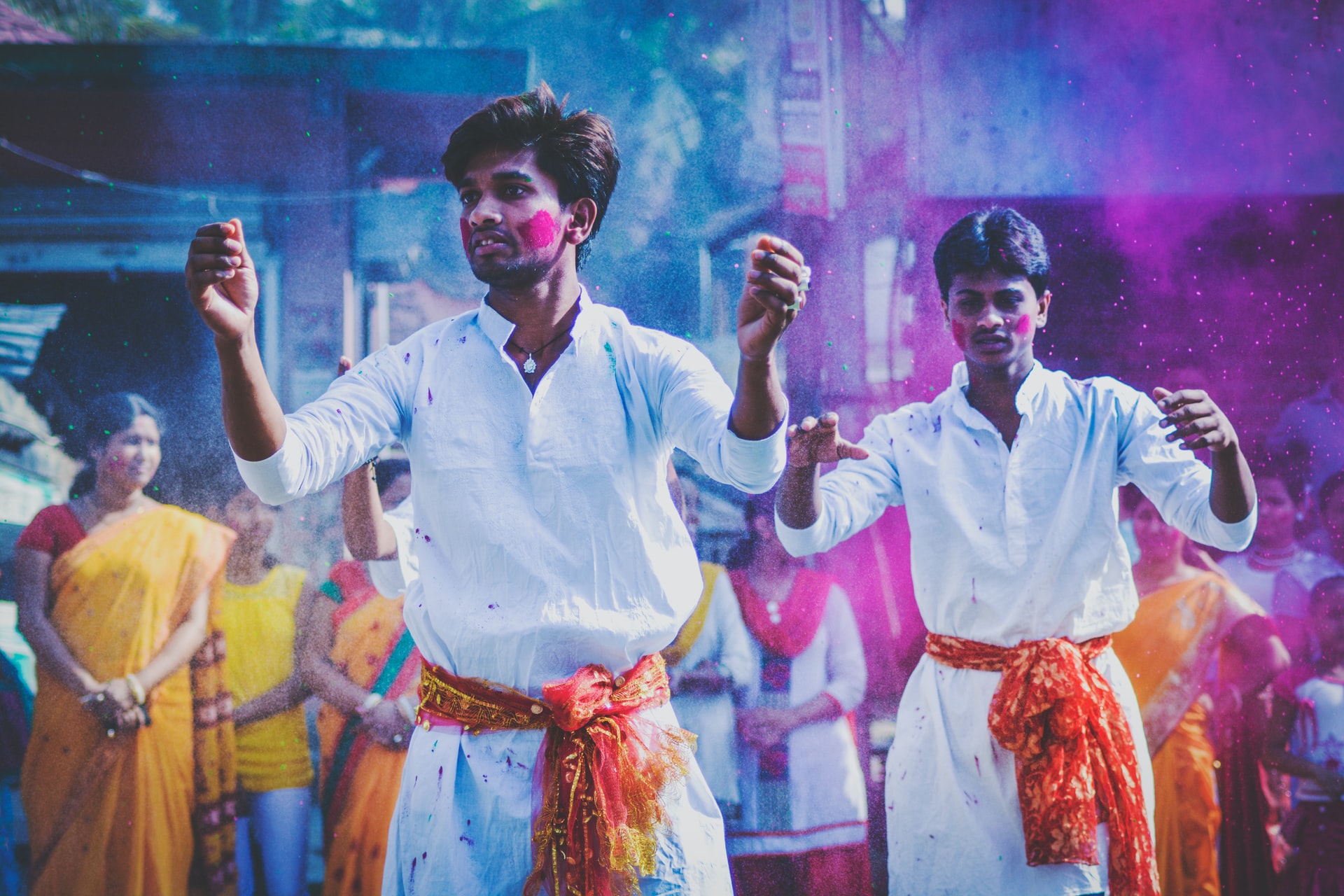 This error message is only visible to WordPress admins
There has been a problem with your Instagram Feed.